A smarter wordpress
knowledge base
Easily create 24/7 self-service support system
for your clients or teammates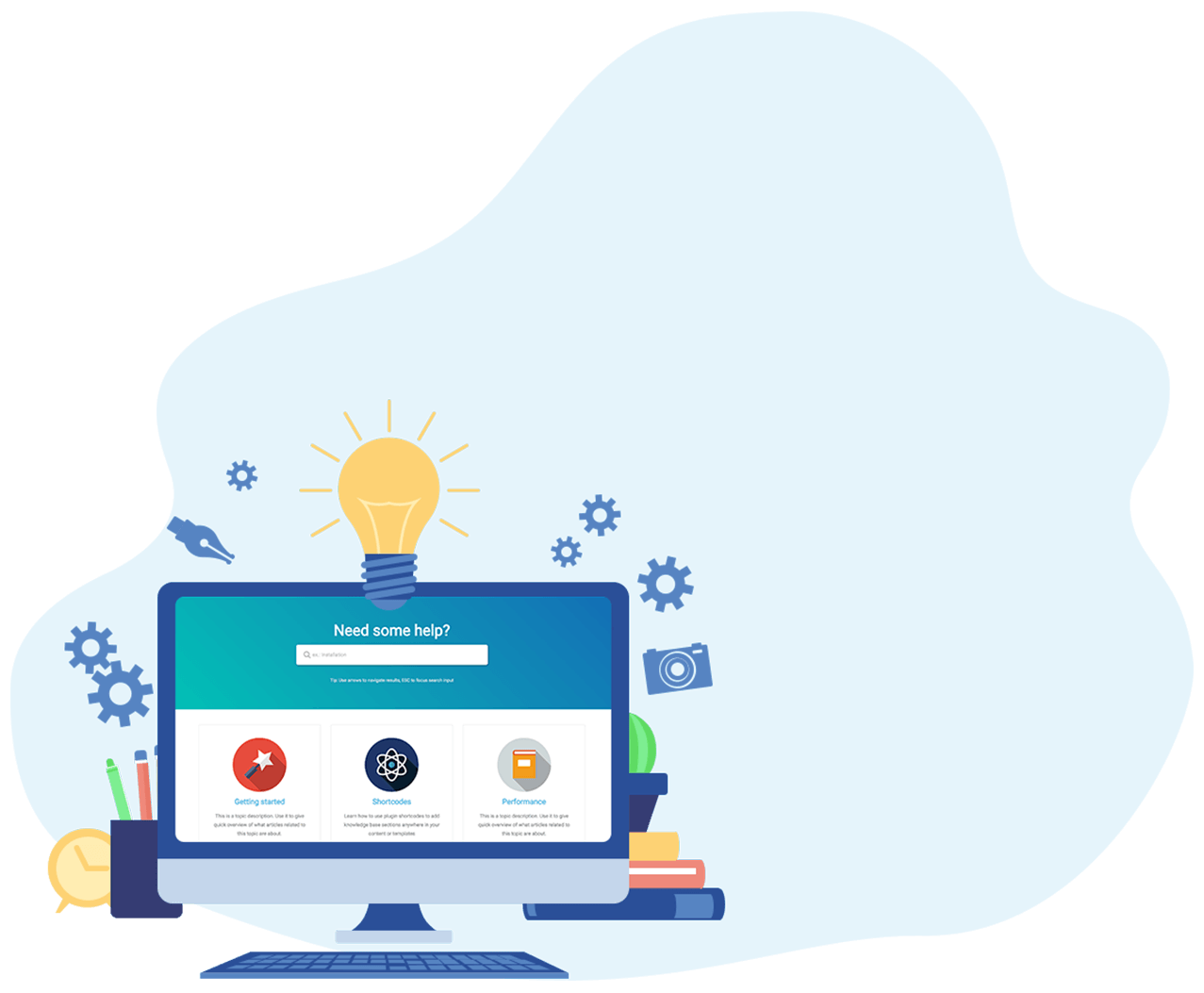 Rated 9.8/10 and trusted by
2000+ companies worldwide
Learn why our clients are happier
:)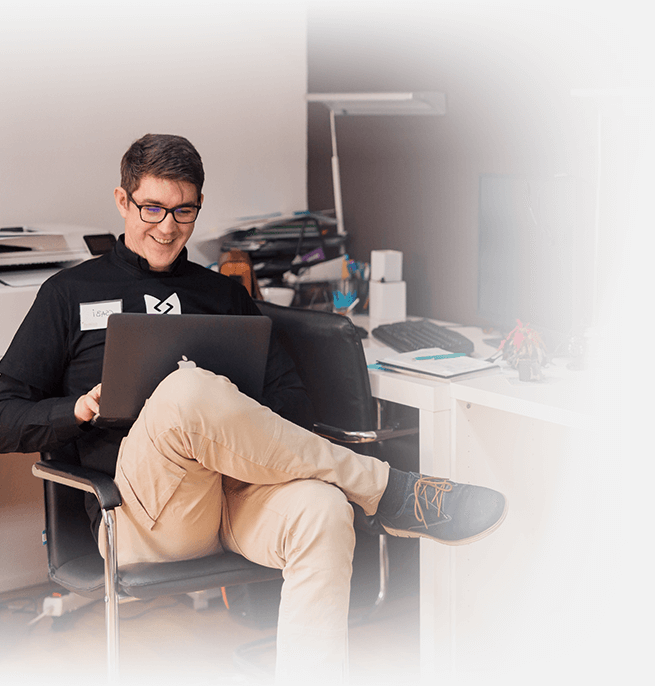 Small Businesses & Startups
...because now they can focus on building their products & services instead of answering generic support questions

Digital Agencies
...because they can offer reliable & highly customizable WordPress Knowledge Base to their clients, with pro features, regular updates and support

Larger Companies
...because now they can provide the best customer service to their clients, reduce emails, tickets and customer support cost
Powerful Features
We're listening to our customers and constantly improve our product. That's why MinervaKB has features to show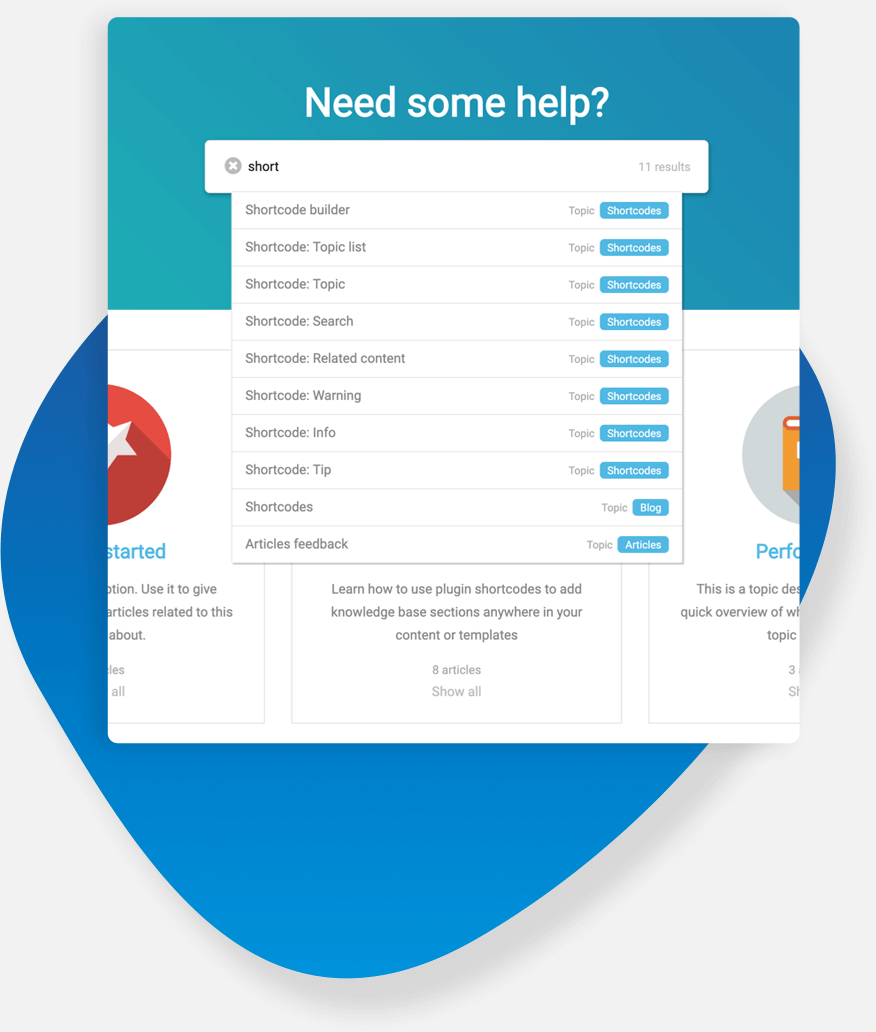 Live Search
A powerful search with beautiful themes allows visitors to quickly find relevant information about your product or service. Use search analytics to see what information is most important to your clients
Content Organization
Use topics to organize your knowledge base content in a clean way. Choose between box or list layout, select number of columns, use nested topics, display topic icons or images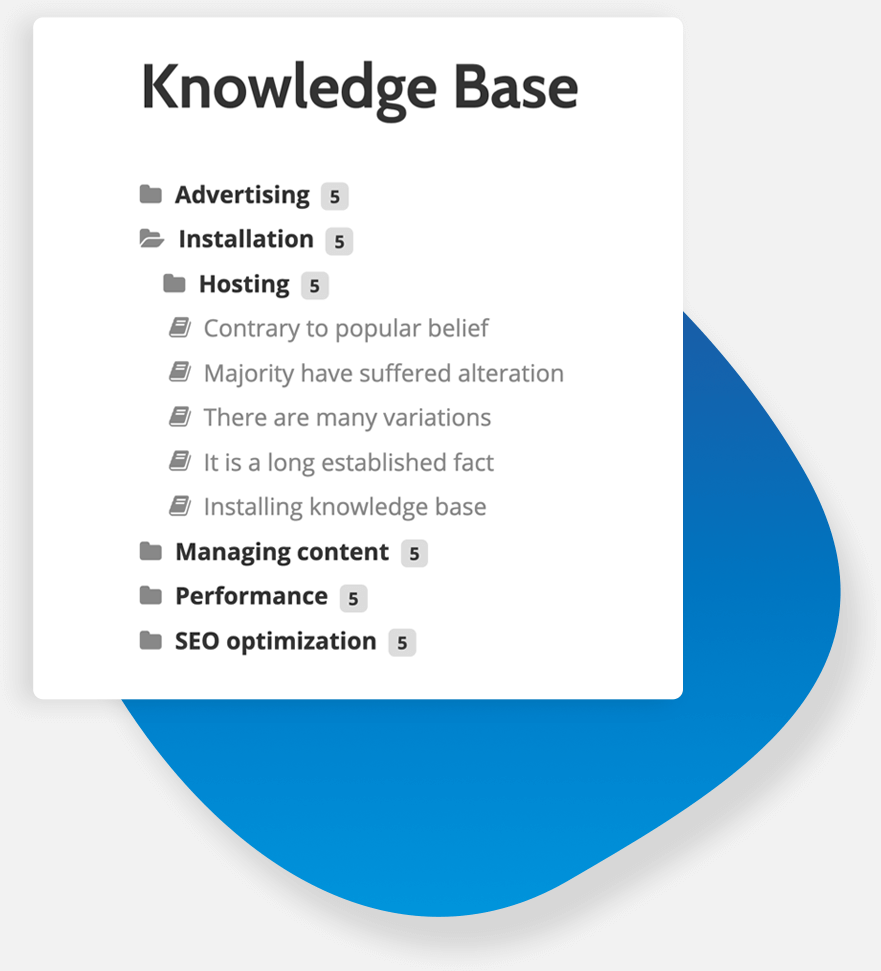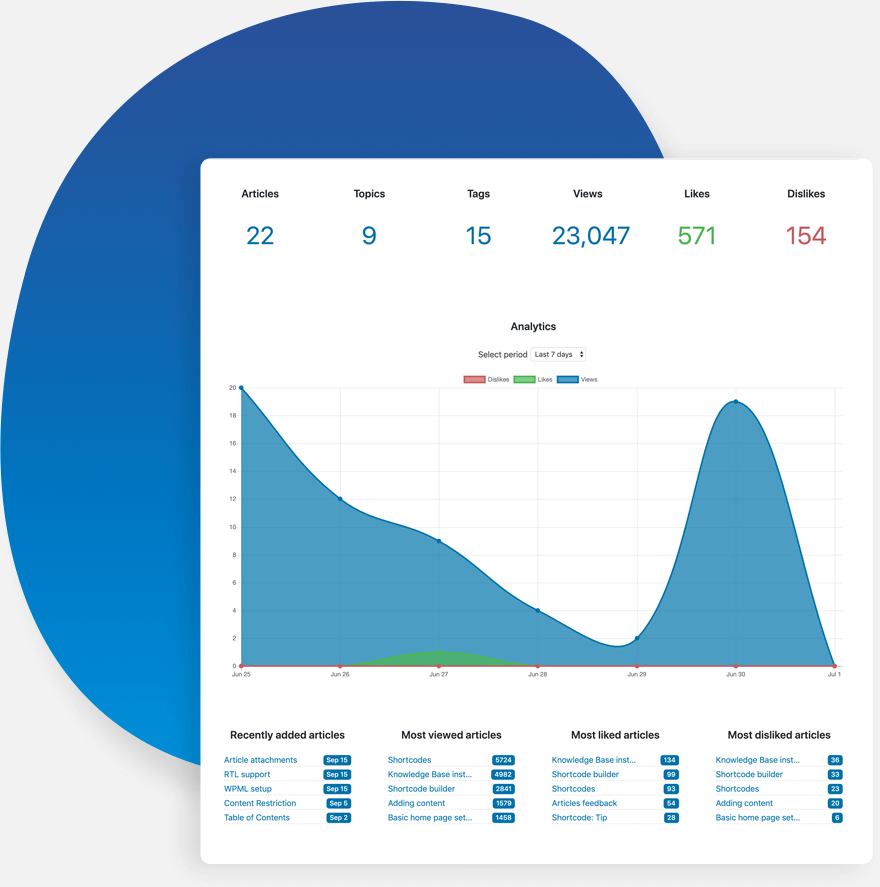 Insightful Analytics
Use our internal analytics dashboard or Google Analytics to track user interactions with your knowledge base. See which articles need improvement, analyze search queries and read clients feedback
Restrict Access
Restrict content to create an internal knowledge base for your team or provide premium content for registered users. Choose which user roles can read your entire knowledge base, each specific topic or article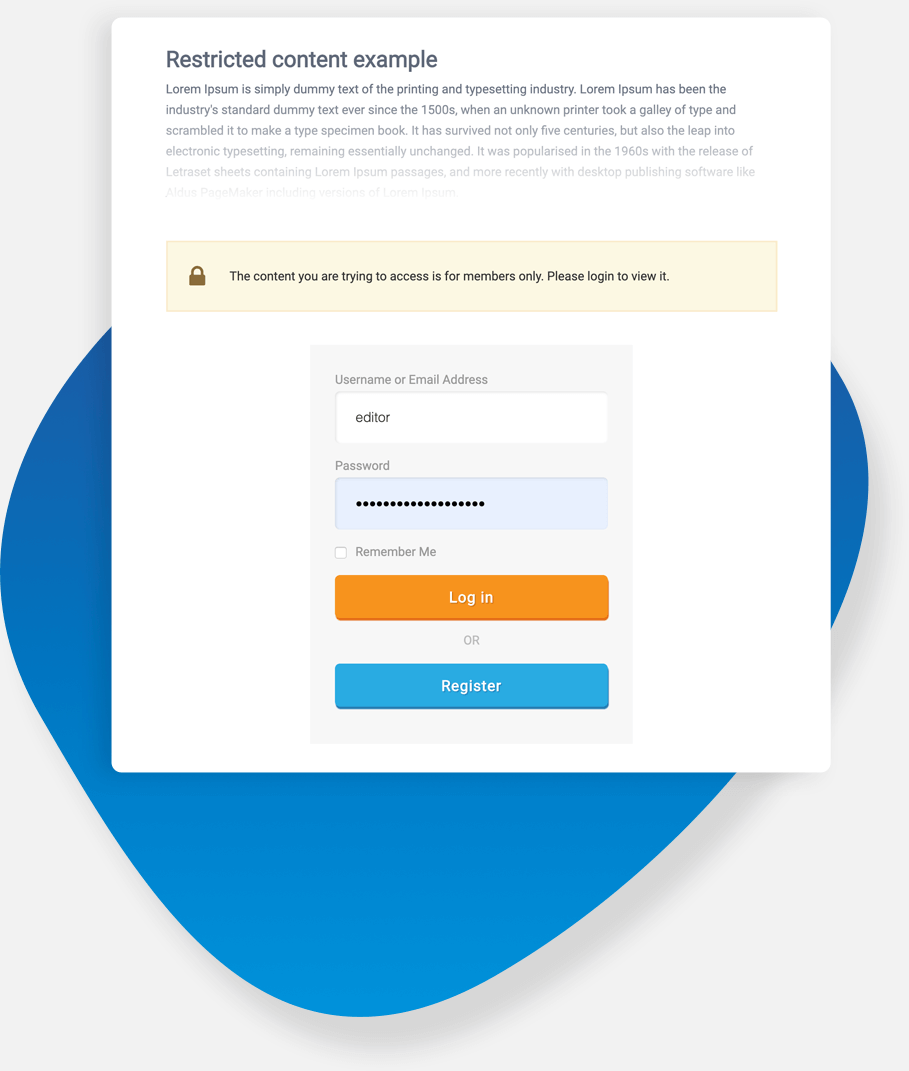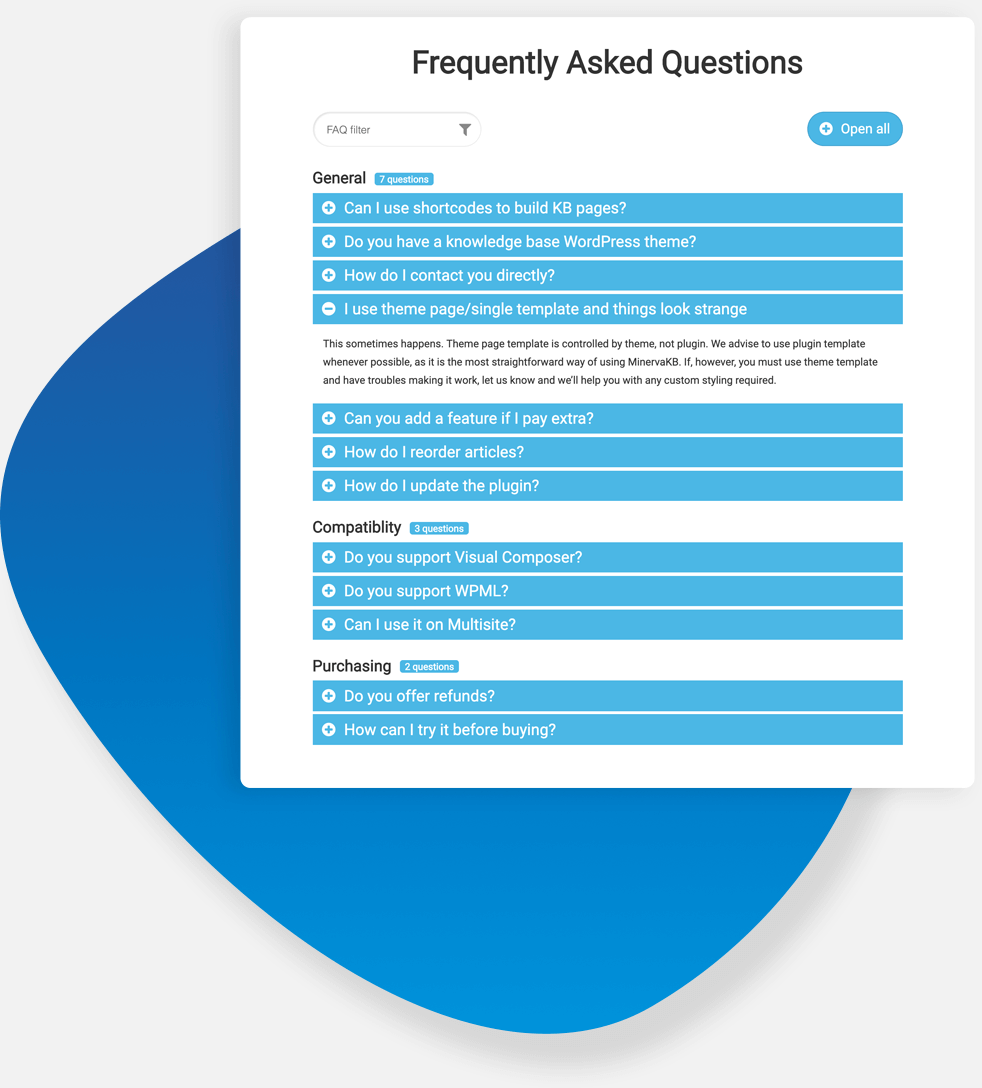 Pro FAQ Included
Save up to $49 on the FAQ module. We've added a fully-featured question & answer module with beautiful modern design, categories, flexible options, and live filter. Use it on a knowledge base home or any other page
Easy Translation
We've made sure it's easy to translate your knowledge base into your language. No need to edit PO files or use translation plugins, all client-side labels are editable right in options panel. You can also make it multilingual using WPML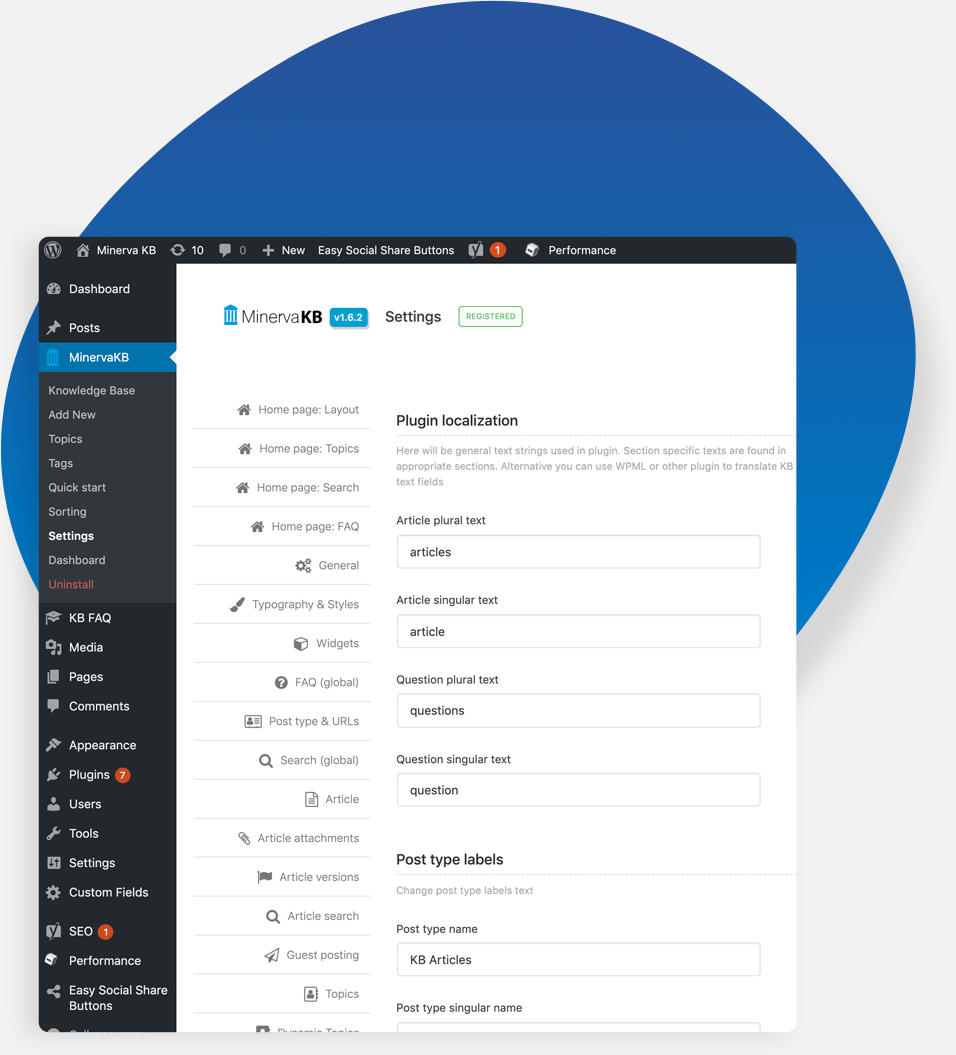 How It Works
Install MinervaKB on your new or existing WordPress site
Import support demo pages & content in 1 click
Edit content or add new. Press "Publish". Done!
Easy setup. No coding or design skills are required to turn your website into a self-service support system, available 24/7
We Love Our Clients
And they love us back. Learn why 2000+ clients worldwide from individuals to startups rate our product 9.8 out of 10
This plugin is fabulous! It's beautifully designed and works perfectly. It has everything you could ask for in a knowledge base system.
The best knowledge base plugin! Attractive layout, lots of customization options and excellent support! If you are thinking of creating a knowledge base, do not hesitate MinervaKB is the best option.
The product is easy to use with a real helpful support team behind it. They have helped me each time I needed their help. They have solved each problem or proposed an alternative to my build. I would definitely recommend this product. They have never failed me answering in 24 hours. So they are true to their word.
Everything about this plugin is great, and the fact that they keep updating it fairly frequently makes it even better! Excited to see what's in store for this. We've been using it for a couple of years now and love it!
Wow! What a great plugin. I really like how I can customize almost everything thanks to the shortcode functionality. Great job!
Wow, this could be a first! I requested a feature (FAQ search) and boom - in the next release it's available! Plus a load of other features like unique FAQ URL, import/export of settings.. Very impressive!
Amazing. Has many customization options to make it look however I want. High quality design. Reasonable price. 100% worth it.
Awesome Plugin. Keep up the great work. I nearly tried every free and paid Knowledge Base and Wiki Plugin (for example the Heroic Knowledge Base Plugin for crazy 129 $). But MinervaKB is miles ahead the competition. Thank you very much for this great plugin - my search is now over.
The knowledgeable has tons of features and the support team/author is very helpful! I had purchased and been using another KB plugin before this so trust me, this is the best product on the market!
Did a lot of research before buying MinervaKB. There is not much like it - and if there is, it's not half as good. I'd really like to see this grow, so keep up the good work!
This is by far the best Knowledge Base plugin for WordPress on the market. The setup was easy, it integrates itself perfectly into our design, it has dozens of customization options, and it just works very well.
Tremendous feature set - but above all great customer support. I found a conflict with a customisation I was trying to do ... workaround given almost immediately and the overall plugin updated in a couple of days!
Safe Checkout at Envato Market
One More Thing
Ok, not just one. We simply love adding features that are useful for you
Automatic Table Of Contents
Our knowledge base analyzes your articles and builds a table of contents dynamically. You simply add headings to your text and we do the rest.
Learn More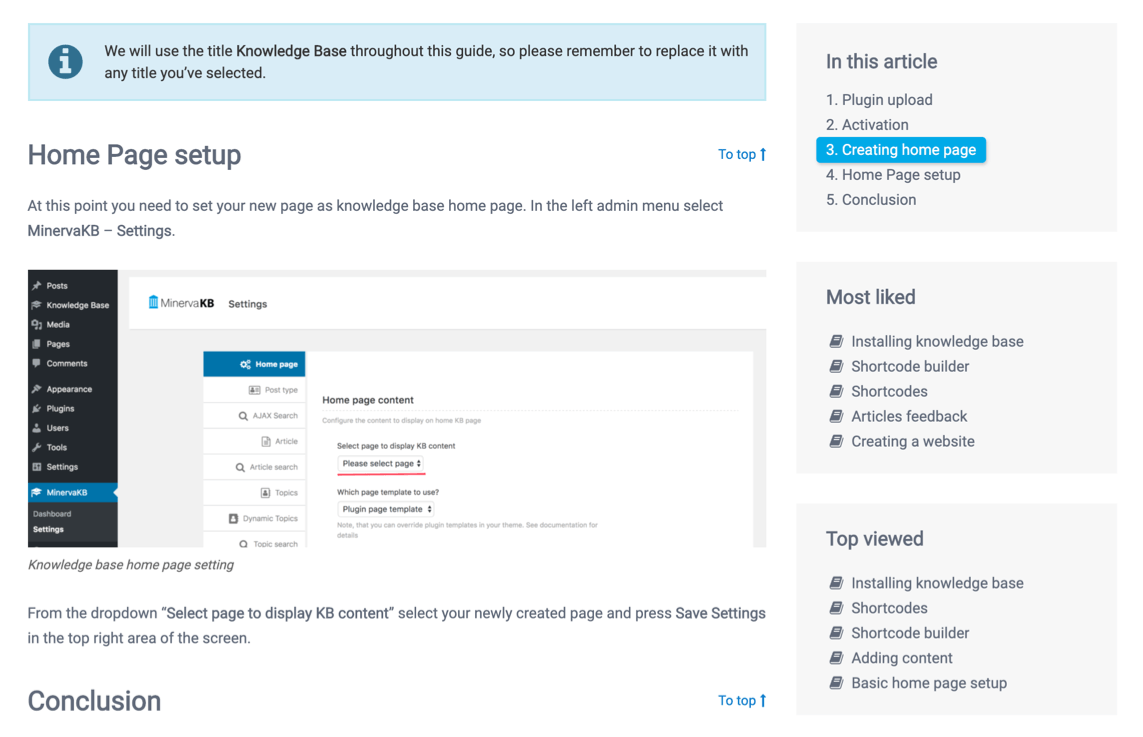 Automatic Table of Contents
Automatic Table of Contents (ToC) feature allows site visitors to quickly see the main sections of each knowledge base article and navigate between them. There are two ways to display table of contents: in sidebar or at the beginning of the article.
When you select to display table of contents in sidebar, you can also make article sidebar sticky, so that it's always available to user. With ScrollSpy feature activated, reader can always see which chapter of article is on the screen at the moment.
Options panel allows you to configure different aspects of contents table, from colors, to headings exclusion. By default, all headings in article content (h1 to h6) are used to build ToC, but you can select headings to be excluded. This can be useful, for example, if you have some headings used for some custom elements or in shortcodes.
ToC can be flat or hierarchical, in which case nested headings (h3, h4 etc) will be displayed as children of higher-order headings. Also, you can enable chapter link generation, so that when user clicks the chapter the page url is updated. This allows you to send direct links to specific chapters of knowledge base articles.
SEO-friendly
Adding articles with relevant content not only will help your clients, but it also will greatly increase search visibility of your website.
Learn More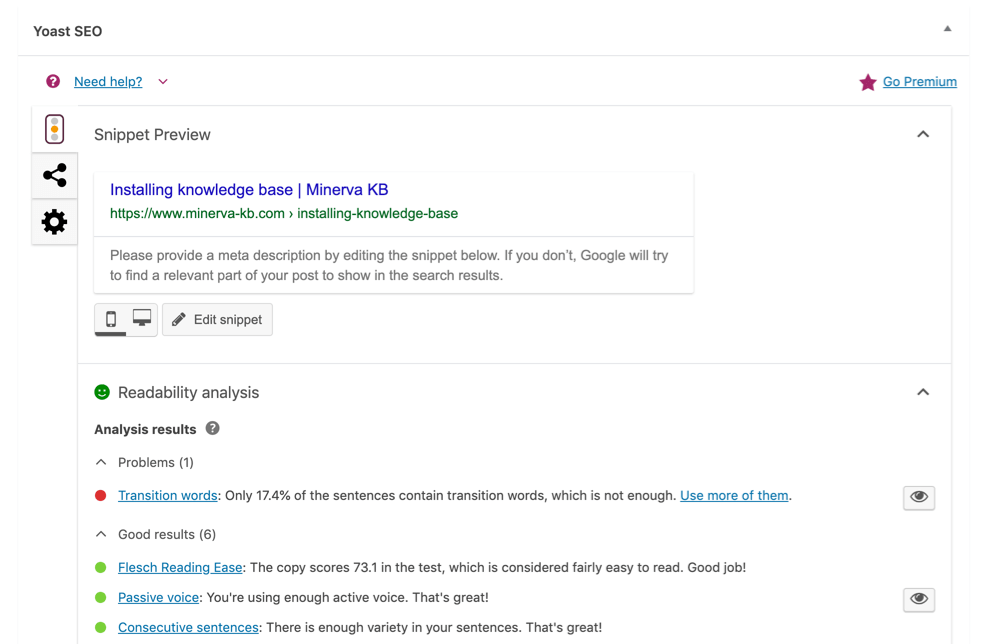 SEO-friendly
Knowledge Base articles in MinervaKB essentially have same SEO optimization capabilities as regular blog posts. We do our best to use default WordPress features and possibilities as much as possible and add custom functionality only when there's no way to do it the WordPress-way.
Articles use standard WordPress custom post type functionality. Because of this most popular SEO plugins, like Yoast SEO, work with articles same as with regular posts. Besides, articles have the same SEO-friendly slug as regular posts.
For example, using Yoast SEO plugin, you can analyze readability of each article, get same SEO score as for posts, create meta descriptions, analyze selected keyword usage in text, set separate text and images for Facebook and Twitter share dialogs, etc. Also, Open Graph tags and JSON-LD data will be added to document automatically.
Because each knowledge base article ot topic page has custom sidebar and widgets, you can add lots of relevant links for your visitors to click. This can decrease the bounce rate for knowledge base pages considerably. You can also use Related Articles links inside and after text.
MinervaKB also works with popular caching plugins, which allows you to speed-up the content loading - another important factor for page ranking.
Works With Any Theme
We follow WordPress best practices and design guidelines. That's why our plugin works well out of the box with most free and popular themes.
Learn More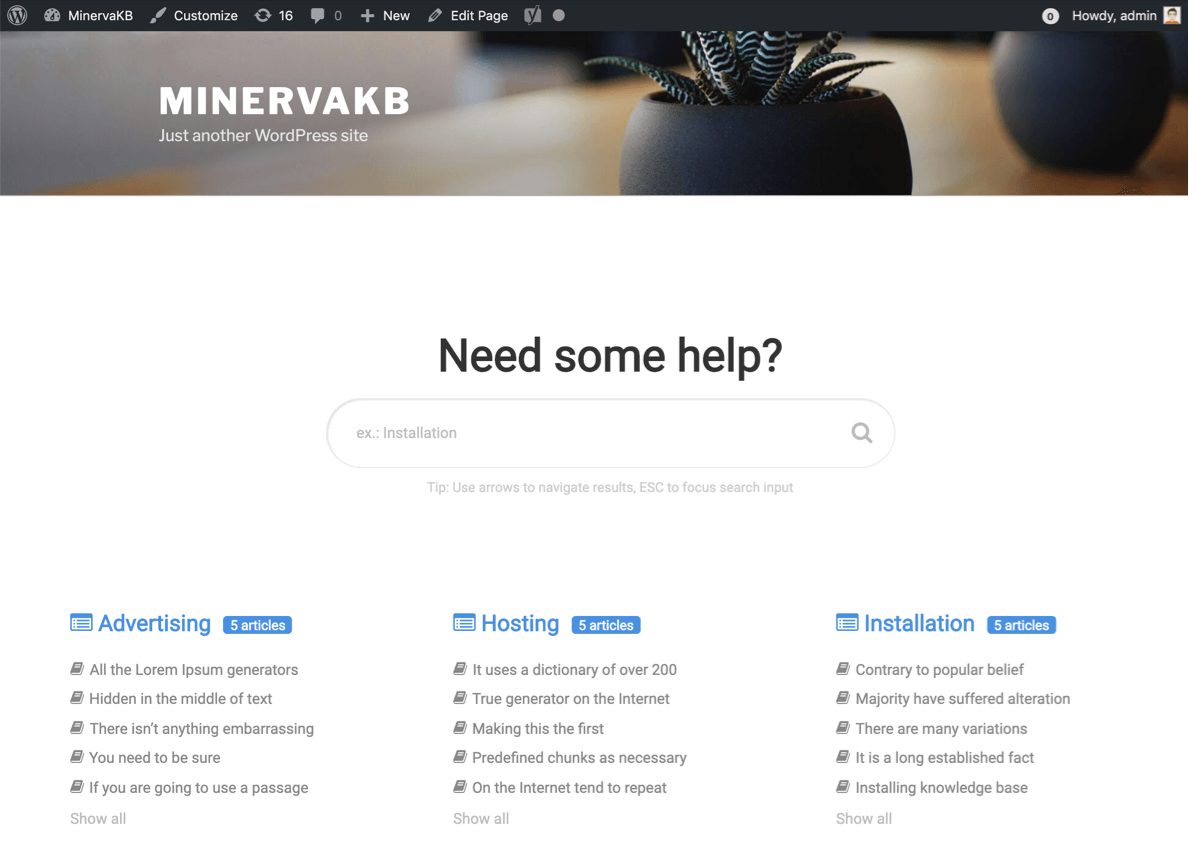 Works With Any Theme
WordPress ecosystem is very diverse and complex, so of course we cannot guarantee that MinervaKB will work perfectly with any possible theme and plugin combination.
However, we do our best to follow the WordPress community recommendations and guidelines. That's why our knowledge base works without issues with most popular free and premium themes.
Besides, we offer an option to use them post templates for articles and category templates for topics. While this feature is experimental and depends on theme, it proved to work well in many cases.
If for some reason you have troubles with making it look like on demo, feel free to contact us and we'll do our best to fix compatibility issues quickly or offer you a refund if your theme uses very custom layout and templates.
You can create a TestDrive to see how it works with TwentySixteen (Classic Editor) or TwentyNineteen (Gutenberg) WordPress themes.
Article Feedback
Allow visitors to rate your content and leave feedback for each article. Analyze feedback and ratings to improve documentation and increase customer satisfaction.
Learn More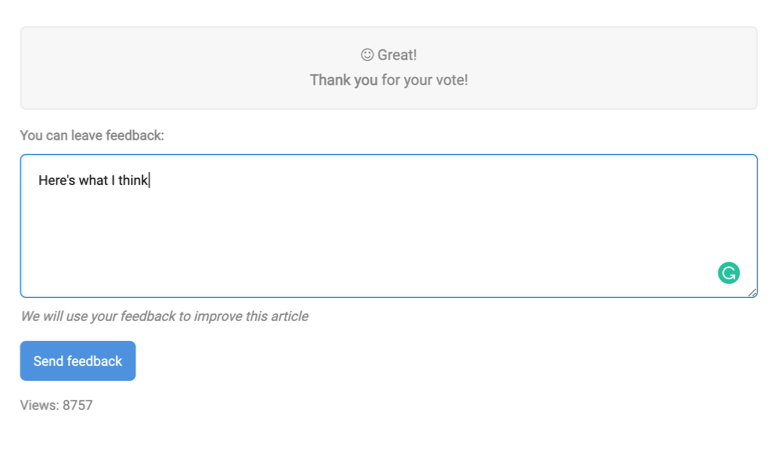 Article Feedback
It is most important to always keep your knowledge base up to date and make sure that it's actually helpful for the readers.
With MinervaKB you can allow site visitors to rate articles with rating buttons - Like and Dislike, and leave custom feedback for any article.
You have full control over the rating buttons and feedback via plugin settings: customize colors, icons, labels and and 'Thank you' messages. Optionally you can display how many people found this article helpful.
Because feedback form is added dynamically and does not have typical HTML form elements, there's no need for antispam filters or captcha. Flexible feedback settings allow you to choose when to display the feedback form. You can always show it, or only when user clicks dislike or any of the rating buttons.
You can always check which articles have poor rating in the Dashboard and take action to fix the issues.
Classic Editor & Gutenberg Ready
No matter which WordPress editor you prefer we've got you covered. Use our Shortcode Builder in Classic mode or Gutenberg Blocks with live preview.
Learn More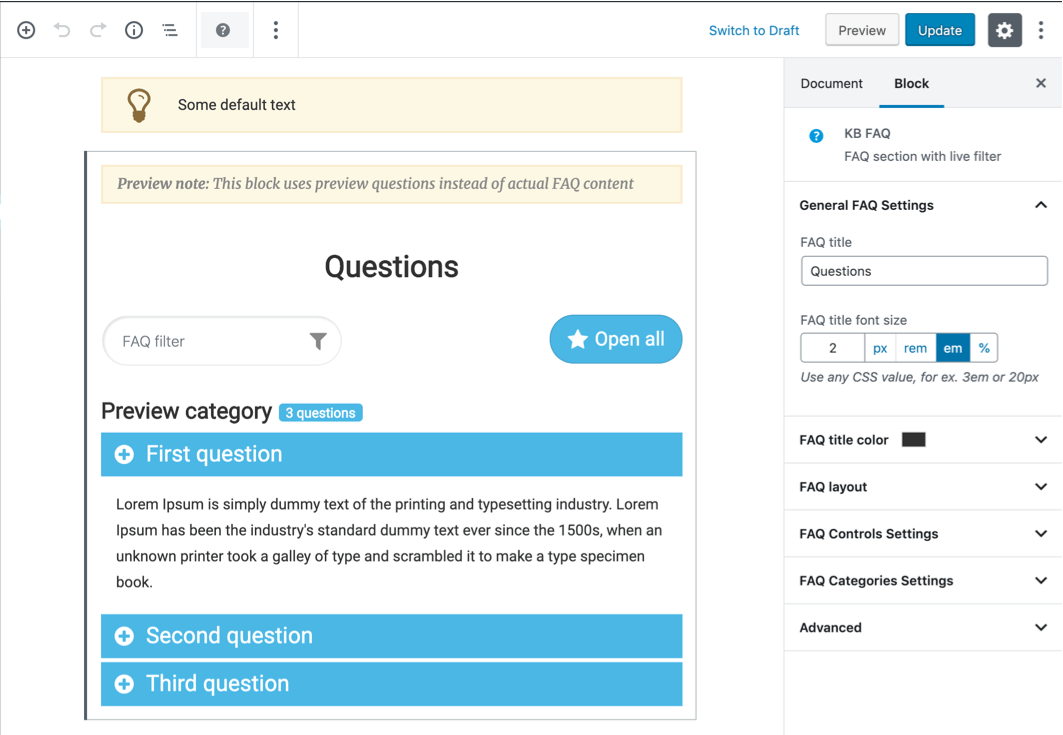 Classic Editor & Gutenberg Ready
Both Classic Editor and Gutenberg have their own fans and opponents, so we don't take sides here. We believe it's up to you to pick your favorite editing tool. That's why we've migrated all our Shortcode Builder modules to Gutenberg Blocks, without making compromises or cutting corners.
If you use Classic Editor, you can use our Shortcode Builder for TinyMCE. It allows you to easily insert and edit shortcodes using our options panel. We continue to support Shortcode Builder and don't plan to deprecate it as long as WordPress supports Classic Editor in one form or another.
If you like the Gutenberg editor, you can use blocks from MinervaKB category to either build Knowledge Base home page or add content to articles. All block have dynamic live preview, which is very close to the actual block rendered on client side.
We also added a separate demo import content for Gutenberg editor and even created a separate TestDrive with Gutenberg content and TwentyNineteen theme for your convenience. Feel free to try it!
Shortcodes & Widgets
We provide a number of knowledge base specific widgets to help your clients find content easily. Top-rated articles, recent topics, tree of contents and more.
Learn More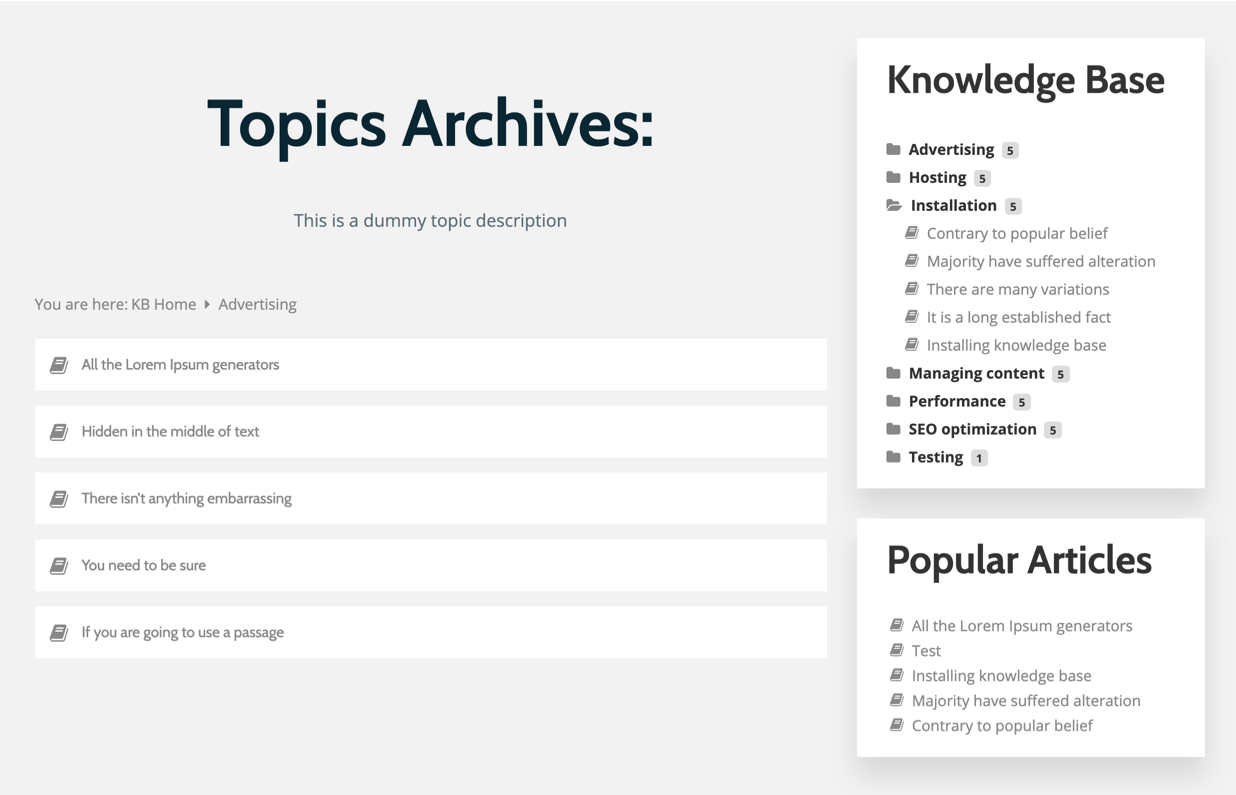 Shortcodes & Widgets
Widgets are very helpful for knowledge base, because they allow you to display relevant content for better navigation. Both articles and topics have their own sidebars, which allows you to display a different set of widgets each page type.
We also provide a set of shortcodes that can be used to build knowledge base home page (Search, Topics, FAQ) or enhance article content with custom blocks (Tip, Warning, Info or Related Content).
All shortcodes can be easily inserted and edited via our Shortcode Builder (Gutenberg blocks are also available).
In sidebars you can display recent/popular articles list, topics list, table of contents or knowledge base content tree. Knowledge base search and breadcrumbs are also available as widgets.
Multi-Product Knowledge Base
Create separate sections of knowledge base using multi-product mode. Each section shows only topics, articles and search results for given branch.
Learn More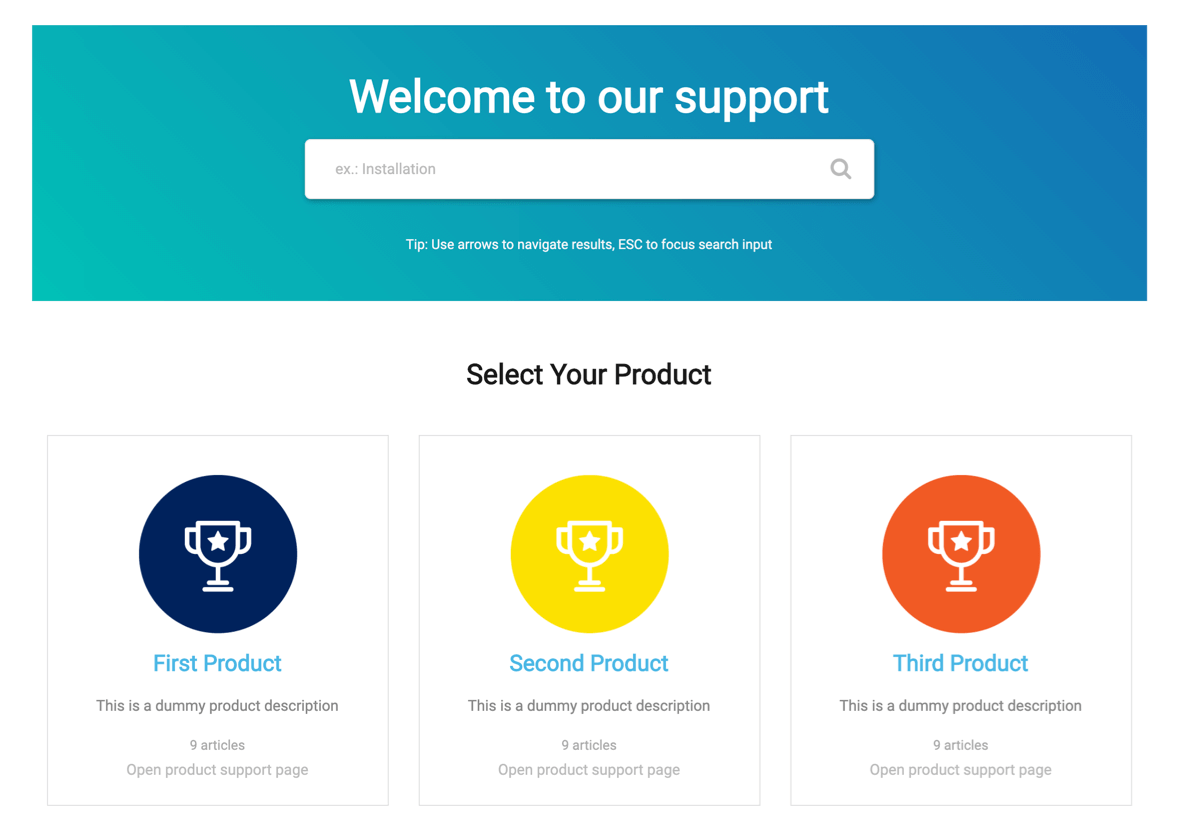 Multi-Product Knowledge Base
Each top-level topic has flexible display options. You can show or hide title, description, search and breadcrumbs. You can also replace topic content with page content - which means you can use shortcodes or modules too.
This allows you to turn root topics into separate support pages. Most often this can be used if you have multiple products or need separate knowledge base sections.
In addition to root topics display options, all knowledge base modules on product child topics and articles know that they are inside a specific product and scope content accordingly.
For example, when inside product, recent articles widget will display only articles for given product, not the entire knowledge base. Search module inside article or topic will search only inside current product. On the other hand, search module on home page will search all knowledge base content.
Article Attachments
Add attachments to your articles, customize icons and colors, see how many downloads each file gets. Use Images, pdf, spreadsheets or any other filetype.
Learn More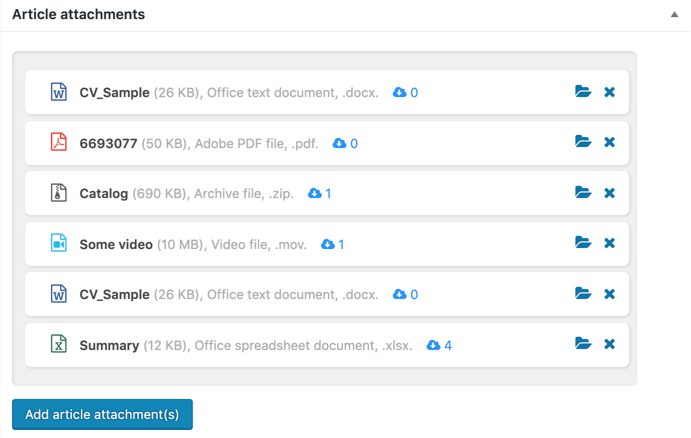 Article Attachments
You can attach any number of files to any article. This can be especially useful if your company already have guides or documents for products in .pdf or other formats.
You can use any file format that's allowed by your WordPress installation and does not exceed file size upload limit. Our options panel allows you to customize icons and colors for most popular file types, such as .pdf, .xls or .png. You can upload video files or archives as well.
Each attachment has download counter, which is updates every time user downloads the file. This allows you to track how useful each file is for your customers.
It's important to keep in mind that you still need to write at least basic content for the articles to make them searchable even if you plan to use attachments primarily.
Floating Help Widget
Floating helper allows you to add knowledge base search on any page. Options allow you to change size, colors, position and many more.
Learn More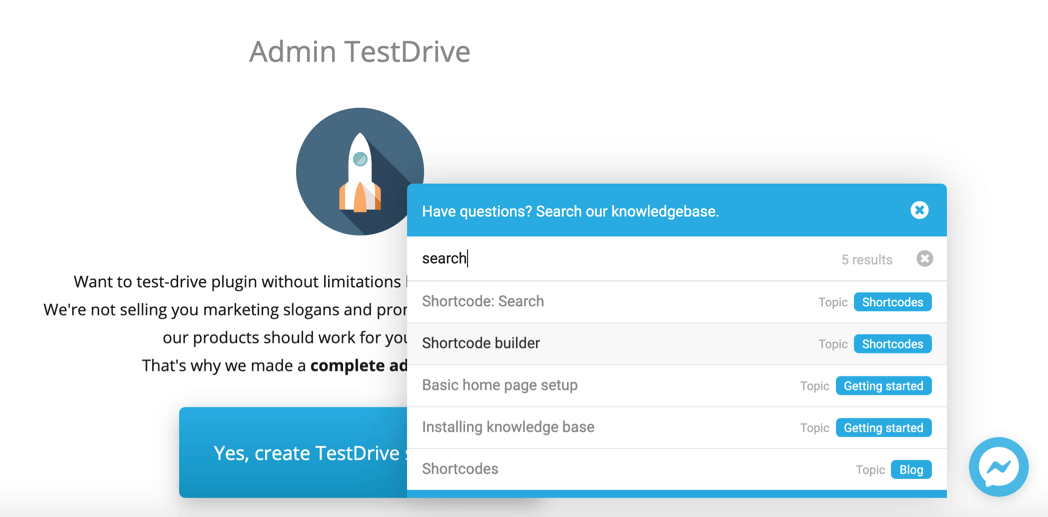 Floating Help Widget
Floating Help Widget allows you to display knowledge base search on any page of your website. For example if you have some product page and you know customers always have some specific questions about it, you can enable help widget for this page.
There are many options available, such as display position, delay, display platform, widget size, icon, background color, etc. You can even add custom HTML at the bottom of it, in case you need to add a link to your ticketing system.
You can also customize helper activation via settings. For example it can appear automatically after a delay or you can add a button in your page to activate the widget on click.
Optimized for Speed
We use many optimizations to provide the fastest rendering time. Compatibility with popular caching plugins allows your knowledge base to be blazing fast.
Learn More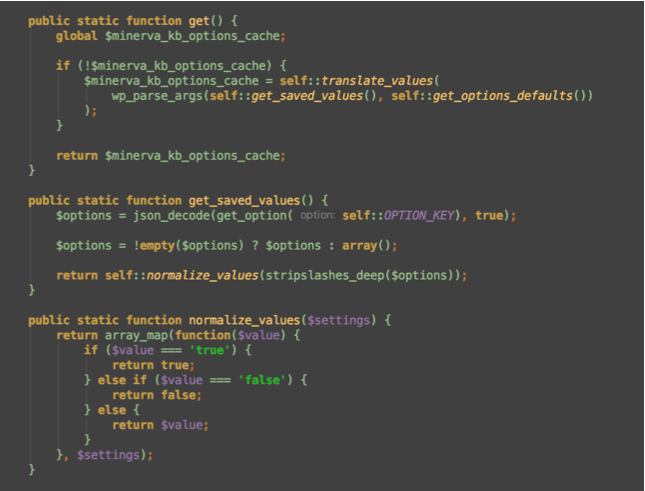 Optimized for Speed
MinervaKB is optimized for speed at the core level. All our template info variables are cached internally, so we don't have to recalculate them during rendering. Same applies for plugin settings and KB modules with complex logic.
For example, all the Content Restriction calculations and data that requires multiple database queries is stored in cache internally and is refreshed every time you edit content or change restriction settings. This allows us to decrease page loading time significantly.
Compatibility with popular free and premium WordPress caching plugins allows for even more loading speed optimizations.
As well as...
Fully responsive
RTL support
Multisite ready
Article comments
Estimated reading time
Options panel with 500+ options
Multiple sidebars for each page type
Breadcrumbs on topics and articles pages
WPML ready
Regular updates
Guest article submission (drafts)
Shortcode builder
Typography with Google Fonts
One-click demo import
Font Awesome icons
6 months of support
Automatic updates
Visual Composer modules
"Customer service shouldn't just be a department, it should be the entire company." Tony Hsieh, CEO Zappos
Choose Your Demo
Pick the one that suits your website design best and import it using one-click demo import
Create a TestDrive
Want to test-drive your WordPress knowledge base without limitations before purchasing? No problem!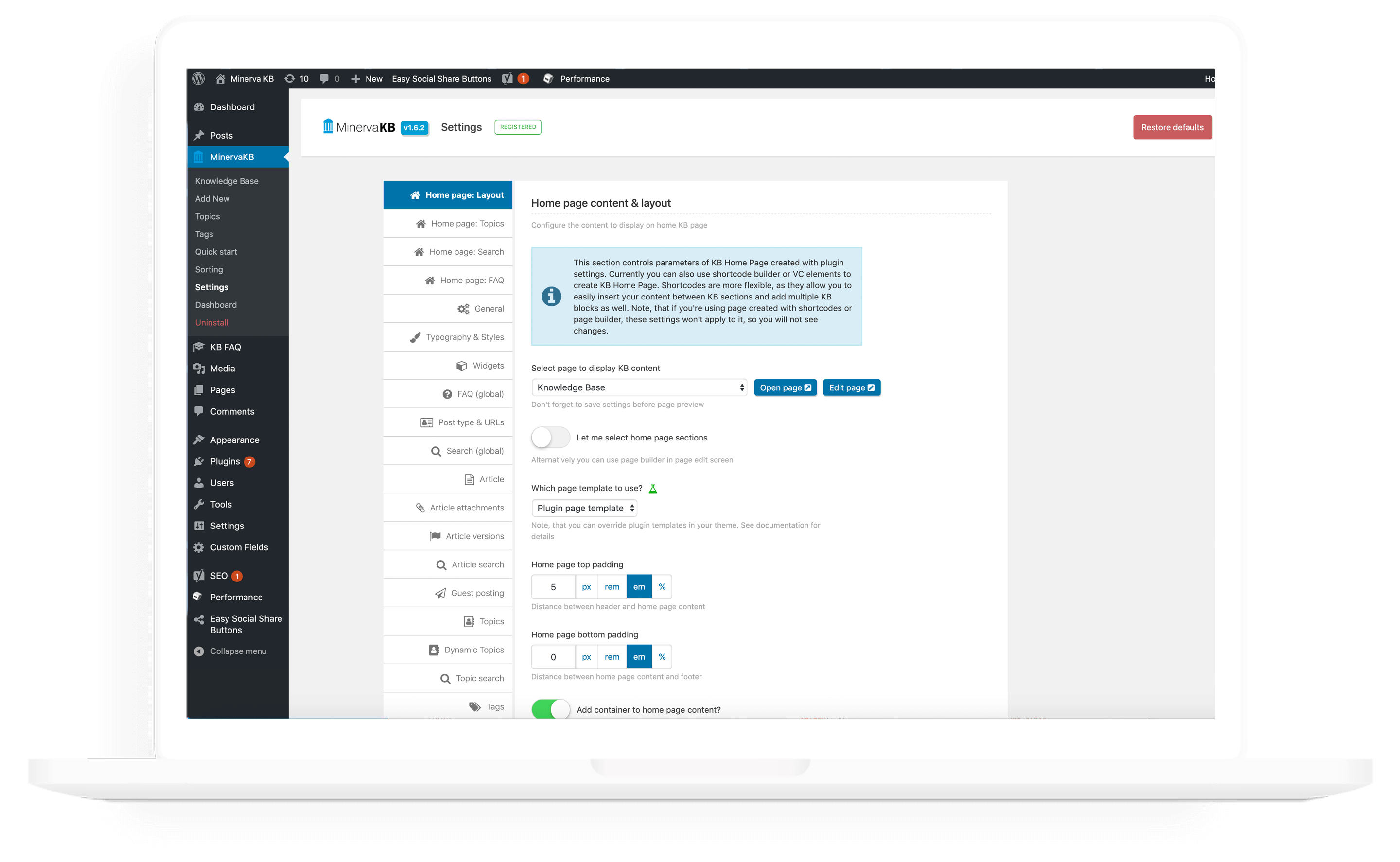 Read Case Studies
Find out how different companies improved their customer support using our WordPress Knowledge Base
Every guide you write today saves you days of support time in the future and makes your customers a little happier